Career Assessments
With our robust career assessment tools you learn all about the careers that meet your personality. Thereby giving you greater focus on career opportunities that best serve your needs, while contributing to the socio-economic outcomes of your ultimate profession. Your personal preferences can be used to help you determine what you would like to do in your life. Our personality based smart career assessment profilers provide you with a clear outline of your career possibilities. Take a moment and click through our Interest, Work Importance and Job Readiness Skills profilers to learn everything about the careers best suited to your personality.
Interest Profiler
This tool will help you understand your career interests, and how they relate to the world of work. Your Interest Profiler scores will help you determine your strongest work interests and use them to decide upon occupations you may want to explore.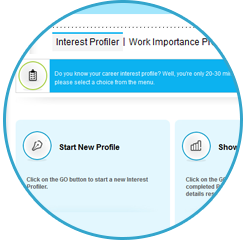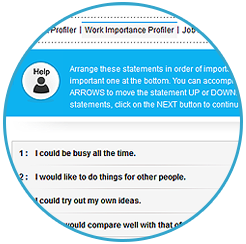 Work Importance Profiler
By choosing the statements that match your work interests, you can find out about various careers that match your personality. It´s a simple, short process that can help you determine what you really like to do and what professions are suited to your needs.
Job Readiness Skills Profiler
Once you have identified your strengths, interests and talents, build your skills profile to see which jobs and career match with your characteristics. Skill levels include, basic, social, technical, complex problem solving, systems, and resource management. A collection of jobs and career choices will be presented upon completing this portion of the assessment.